Sunday 9:00 a.m. Traditional Worship Service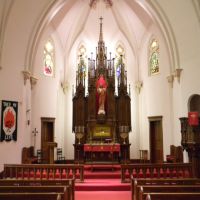 St. Stephen's most popular worship service is a traditional Lutheran, liturgical service using the ELCA's Evangelical Lutheran Worship. Special music at this service might be presented by our Sanctuary Choir, our Men's Chorus, our Bell Choir, or our Children's Choir. Holy Communion is always served at this service. Like most ELCA congregation's, communion at St. Stephen is open to all who believe that Jesus is really present in the bread and the wine and who have been admitted to the table at their home congregation.
Thursday 6:00 p.m. Worship Service in our Chapel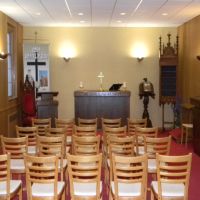 St. Stephen provides a weekday worship opportunity for those who are unable to be with us on Sunday morning. It is a smaller service, a more intimate service, a shorter service, a less formal service. Holy Communion is also served on Thursday evening. Coffee is available too!
Occasional services:
Christmas Eve - 4:00 p.m.
Christmas Day - 9:00 a.m.
Ash Wednesday - 12:10 & 6:00 p.m.
Mid-Week Lent - 4:30 & 6:00 p.m.
Maundy Thursday 12:10 p.m. & 6:00 p.m.
Good Friday 12:10 p.m.
Easter Sunday 7:00 a.m. & 9:00 a.m
Thanksgiving Eve 6:30 p.m.